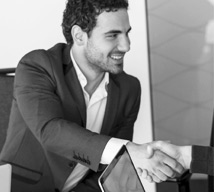 It has been clear for a while now that the tech sector has been growing at a fast pace across the UK. We reported in April that we had seen an increase in the number of sales vacancies which we are taking as a result of this boom and now that we are at the half way point in the year, we can really start to analyse and understand the perks of being a candidate at this buoyant time.
Tech salespeople across the UK are more in demand than ever before – and we are seeing this reflected in the increase of basic salary that HJ candidates are receiving. On average, HJ South candidates received an increase of 8.5% to their salaries and HJ North saw a huge 17% increase. Although this upward trend was fairly consistent across all of our roles, the areas that had the most growth were – perhaps unsurprisingly given the fact they are the hottest topics right now – cyber-security, professional services and software sales.
Here at Howard Jackson, we not only work with large global brands looking to add to their accomplished teams but also smaller, niche organisations/start-ups seeking to appoint their first sales person. We are seeing this upward salary trend across our entire Client-base, as all organisations recognise that to attract top talent they have to offer a competitive basic salary as well as better OTE's with accelerators for over achievers.
Whilst financial gain is obviously a high priority for most salespeople, companies are also recognising the need to retain these people once on board and are therefore offering other benefits to employees to increase their work/home life balance and subsequently their levels of happiness in the workplace. Flexible home working hours are being offered as the norm, alongside other perks such as 'duvet days', office drinks and longer holiday allowances. Most companies understand the demands at present for strong sales people and so not only will these additional things entice better candidates to join them in the first place, it will help create a sense of loyalty and longevity.
Howard Jackson Consultants are trained to work on a Consultative basis; if you are thinking about a move or adding to your sales team and want to know more about the industry standards for remuneration then contact our team today; all conversations are completely confidential.